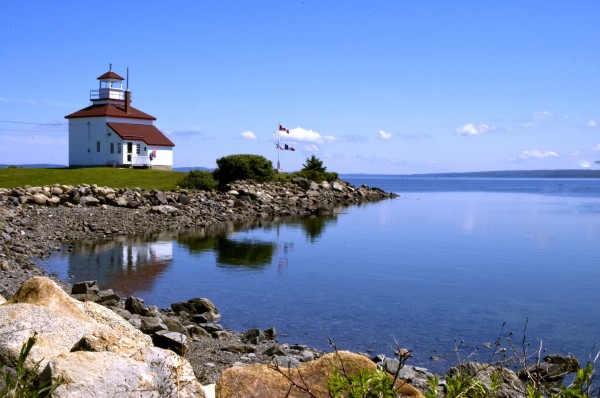 The Gilbert Cove and District Historical Society is a non-profit organization that was established in 1982 to save the then vacant lighthouse from vandalism and decay. All money raised from donations, memberships and the sale of crafts in the gift shop go to help maintain and beautify the old lighthouse. On display are many historical pictures as well as some marine artifacts. There is a tea room, craft and souvenir room and plenty of parking. There is a beautiful picnic area and a wonderful spot for beachcombing and swimming. Everyone is welcome.
The lighthouse is open daily from mid-June to late September. The Lighthouse Family Picnic unfortunately will not be held this year. Visitors are free to tour the lighthouse which houses archival displays, genealogy information, an active quilting room, local crafts and a tearoom. The picnic grounds and surrounding shore are freely accessible. You can enjoy a walk along the shoreline and when the tide is out, you may find small shells and rocks covered with barnacles, or just relax and listen to the ocean as the waves roll in.
Gilbert's Cove just 18 - 20 km west of Digby on the 101 Highway is a charming spot. Stopping there on a hot summers day and feeling that pleasant ocean breeze is like coming upon an oasis. If you enjoy historic buildings, you can wander around inside the old lighthouse itself. It was built in 1904 and had only two light-keepers throughout its years of service, both being from the same family. Stop by for some refreshments, or to learn more about the history of the lighthouse and surrounding area, ask our friendly staff. This is also a good spot to sit around in the evening and watch the sun as it sets over Saint Mary's Bay and Digby Neck, the sunsets are spectacular. Hopefully, you will remember your visit to Gilbert's Cove as part of your Southwestern Nova Scotia vacation experience. Check out our Facebook page at https://www.facebook.com/groups/111969695507853 as well. For more information on local business and events in the surrounding area, please visit http://www.weymouthnovascotia.com, or http://digbyarea.com
Thank you to all our generous volunteers and donors over the past years, who continue to ensure that our Light will shine for years to come!